Luzie & Anna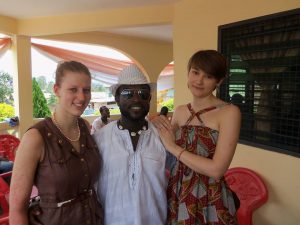 "We are Luzie (25) and Anna (27) from Germany, we have spent nearly one year as volunteers in Agona Swedru, Ghana, and we would like to share our experiences with you. After having graduated from school we wanted to try a rather unconventional way of education. We were eager to gain experience that one cannot gain staying in Germany or even in Europe. We were interested in learning more about globalisation and its side effects. Besides we were aiming at becoming multiplicators back in Germany in order to make our contribution to finally overcoming racism, using our experience to reduce our own prejudices and those in our environment. During our voluntary service we worked as teaching assistants in a private and a governmental Junior High School and stayed with host families. This provided us with a perfect insight into the educational system and allowed us to participate in everyday life in Ghana. We have learned a lot about the Ghanaian culture but even more about our own, how they are often very different and sometimes so similar but that neither is better nor worse than the other.
Reaching this conclusion was a process that involved a lot of empathy, commitment, and patience with ourselves. We also learned that if you want to do voluntary work in Ghana, you need to be open-minded, ready to observe, to make mistakes and learn from them, to reflect your own thoughts and prejudice, and to face unfamiliar situations in an unbiased way. It is important to make the effort to always be aware of your privileged position as a European traveller. For us, this effort was rewarded with a unique experience which changed our understanding of the world, made us meet exciting people and make new friends.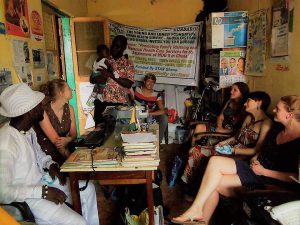 Over the past six years, we have formed a friendship of great value to Gilbert Germain and kept it alive despite the huge geographic distance. This friendship made us come back for an internship with his NGO, the Young and Lonely Foundation (YLF). During our internship we were mainly involved with the organisation of the maternal health program, an educational campaign informing pregnant women and young mothers about their rights as patients. As YLF is cooperating with the St. Germain School, we also spent a lot of time in the school and with its staff and students.
We admire Gilbert's commitment to his work for YLF, fortifying children with health, love and education to enable them to become future leaders. Some of the children at St. Germain School receive free education as they take part in an educational program by YLF. This is one of the most important projects realised by the NGO. A few of these children are also under the custody of the organisation since they are especially vulnerable and have nowhere else to go. Working at the school, we had the impression of a big family with many of the school children looking up to Gilbert as their mentor. They are connected by a strong bond that often makes senior students and those who have already graduated come back to teach at the school or participate in other YLF projects.
Being part of this family is a great experience that we appreciate very much. Therefore we strongly recommend a voluntary service with the St Germain School to anyone interested."
Paul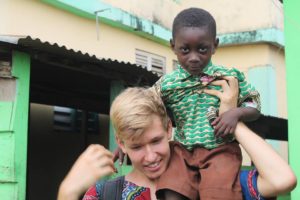 My name is Paul (22) from Germany and I have spent one year in Agona Swedru in Ghana. Participating the 'Weltwärts'-program, I volunteered at Saint Germain primary School and I would like to share my lessons learned with you. After my graduation from High School, I wanted to make use of the liberty attained by my coming of age. Inspired by my senior sister who did a voluntary service in 2006 in Bolivia, I wanted to learn about the different cultures and ways of life in another country. Ghana and especially the Saint Germain School in Agona Swedru were a brilliant choice to gain experiences beyond of what I learned in High School and beyond of what I am now learning in University.
At Saint Germain School, I assisted the local staff as a teacher for Creative Arts and English Language and broadened the after-school activities by initialising a reading class. Living in a Ghanaian host family and working in a team with locals at Saint Germain School and in the Young and Lonely Foundation has showed me all aspects of the life in Ghana and taught me valuable lessons about differences but also about similarities between the German and the Ghanaian Culture. The staff of the Saint Germain School and the Young and Lonely Foundation welcomed me very warmly and showed a lot of understanding for the difficulties I had due to the cultural differences and the change of environment. Over the past years, colleagues have become friends and I could even visit them in Agona Swedru again.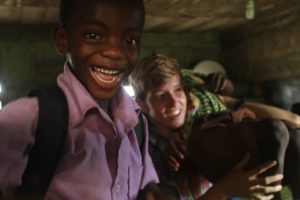 My stay in Ghana raised awareness of our privileged position concerning education, wealth and opportunities but also taught me what is important for me and what I want to do with my life.
At Saint Germain School, I had a great environment to learn and at the same time to do something useful for the locals. I could bring in my own thoughts and ideas in the projects of the Young and Lonely Foundation.
All in all, my year abroad in Ghana was the most defining and exciting time of my life. I learned innumerable lessons for my life and had an amazing time in this beautiful Country in West Africa.
Marco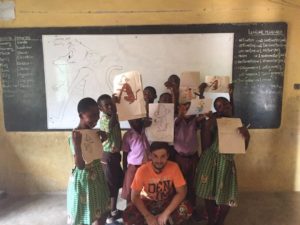 I am Marco Hay, 20 years old, German and I finished secondary school last year. I decided to become a volunteer of the German Red Cross. As the next step I decided to work at a school in Ghana. My personal motivation was to meet a different culture and different customs to learn and understand more about these issues. I was also interested to get experience in teaching. The reason for that is I had the idea to study teaching or some subject in a social sector.  Last year in September I arrived in Ghana. Since then I am living in a host family in Agona Swedru. My project for my voluntary service is the St. Germain School Complex.
I started to teach with my German volunteer colleague Creative Arts in Class 5 and 6. In addition we are teaching also Mathematics in The Junior High School (JHS) 2. In the beginning it was quite a big challenge to teach. The first point is that we had no experience in teaching. The second point was that we would never cane the students. The students here got normally caned if they would misbehave or doing something wrong. Our teacher colleagues supported us very well. In that way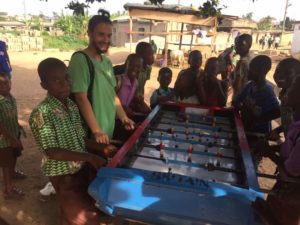 we got used to the system in a fast way.
On the one hand, the good development is that the students got used to our way of teaching. On the other hand, we got used to act/teach/behave as a teacher in a different culture system. Also the open-minded and helpful behavior of the whole school was quite nice until now. The experience to teach every day is a nice challenge. I am convinced to study teaching after the voluntary service.
So in conclusion the daily work makes me very happy: to teach, to explain, to interact and to have fun with the students. Furthermore, it is always nice to observe that the students are happy to see me and my colleague. In addition, there is a very good relationship to the teacher colleagues and to the personal that is responsible for this school.
Summing it up, I got a lot of helpful challenges and experiences. I think intercultural contact/conversation and the common enthusiasm while organizing e.g. dance sessions is a way to give something back and to show my personal satisfaction to work at this school.
Frederik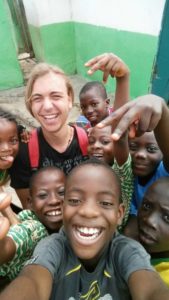 My name is Frederik Schäfer and I am 20 years old. I am from Germany and finished my secondary school 2016. My sending Organisation in Germany is the Red Cross. The organisation in Ghana is called ARA. I always wanted to make a social year in a different country. I decided to go to Ghana very late. The reason why I chose Ghana was because I am interested in the differences between the culture of Ghana and Germany. My father works as a teacher in Germany that is why it is pretty interesting for me to work as a teacher as well. It is also interesting because I have the chance to see a totally different way of learning and teaching than in Germany.
On 12. of September I arrived in Ghana and after one week orientation seminar I came to my home town Agona Swedru. I live in a hostfamily with another volunteer and a Ghanaian brother and a sister. I work in Agona Swedru at the St. Germain School complex. I teach together with the Volunteer Marco Creative Arts and Mathematics in the classes basicschool 5 and 6 and also at the Junior High School 2.
I was very nervous at the beginning, since I didn't know if I could handel the students. We also got the information from the Red Cross in Germany,  that the teachers cane the students. That means the children's get punished by pain. I don't like this way of teaching and I never tried. It disturbs me a lot because I like all the teachers very much and most of them are my friends. Because of the caning it was hard to handle the children at the beginning because they didn't accept the punishment we choose. That's why we had to think about an different way of teaching and we decided to give them a reward for good behaviour. Since then it developed in a very good and successful way. I like the teachers and the students.The school gives us the chance to work and to be part of the school.