The St. Germain School Complex is a registered educational institute, recognized by the Ghana Education Service as a potentially effective institution established to empower children in the educational sphere of life, other extra-curricula talents inclusive, which would inturn be applied to help themselves and society. It was established on the 6th of July 1992 by Madam Dorothy Eghan, the Proprietress.
This school has developed a Special Capacity Building Curricula that harnesses the potentials in pupils/ students; and therefore implements activities to entice children to be highly willing to attend school and be educated.
To entice children to attend school and efforts to help educate and train needy children, brilliant but underprivileged children as well as orphans, efforts to develop communities and societies, the Young and Lonely Foundation has instituted activities to support the Saint Germain School Complex, women, communities and persons with very underrprivileged persons, to help render essential services in Agona Swedru and it neighboring communities.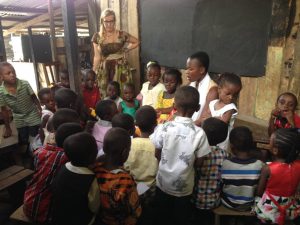 The school operates a Nursery, Primary, Junior and Senior High Schools Education Programmes.
The school supports the education of less privileged and homeless children in Agona Swedru and neighboring communities. The school is in partnership with Young and Lonely Foundation (YLF), a child right advocate NGO also based in Agona Swedru.
The St. Germain school complex is a one-stop school situated on the peak of excellence. With deep concerns for the well-being of children, this is a centre for child development. It has a friendly environment appropriate for the empowerment and disciplining of children.
It enrolls children with very promising mental capabilities. It's teaching faculty hosts well-informed and experienced masters in diverse fields of studies in line with the school's teaching curriculum. Children enroled in the school are well cared for by school mothers, beside the special care given to them by teachers of the school.
Since the establishment of the school, special programmes have been developed to sharpen qualified teachers employed into the school. These special programmes are the Capacity and Leadership Empowerment Program (CLEP), Child Care Studies (CCS), Communication Studies, Customer Care Programme, Developmental and Abnormal Psychology and Healthcare Studies.
The school has two Medical Practioners that administer healthcare needs to the pupils and students, should the need arise, in the school.
Children trained in the school grow to become happy and lively citizen able to cope with any environment in which they find themselves. They are developed, with consciuos efforts to be able to relate effectively and productively with their social environment.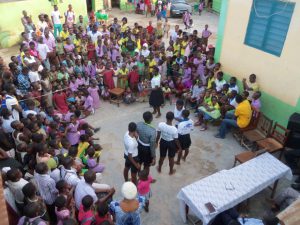 In the Boarding House, well trained child centered personnel with expertise in child psychology are readily available to support children suffering from emotional and mental trauma and other social dysfunctions.
The Young and Lonely Foundation partners with The St. Germain School Complex to also support children who are underprivileged, brilliant but h needy and also orphans, to help recruit them in the St. Germain School Complex to provide them their basic and educational needs. from broken homes as well as homeless children.
Children with other physical disabilities are enrolled and given special care to enrich their self image and capabilities. The school's administration has a proprietress that governs the general affairs of the school. The Proprietress supervises three other head masters responsible for the management of administrative and academic duties of the school.
The St. Germain School Complex has other special faculties and projects namely the Teaching and Leadership Capacity Empowerment Conference, Aptitude Test Faculty, The Computer Laboratory, The Modern Science Resource Center, Mathematics and English Development Laboratory, Practical and Vocational Skills Development Faculty, The Music School, Sports Club and the Writers Club.
Intelligent and creative students are given special tuition support by the proprietress of the school to enrich their performance both intellectually and capacity -wise.
Every year, brilliant and excelling pupils/ students in the school are awarded prizes during the annual School Speech and Prize-Giving Day. This is to inspire recipient pupils/ students to rellent not in academic performance and also urge the unfortunate ones to emulate the eaward winners.
The school in collaboration with Young and Lonely Foundation have instituted a scholarship scheme to help children of all categories to obtain education; this will in effect develop Agona Swedru and other communities, especially with increase in provision of basic necessities like food, shelter and health care. drinking water, shelter and education.