German newspaper reports about the exchange between St. Germain and the vocational school BBS1 Giforn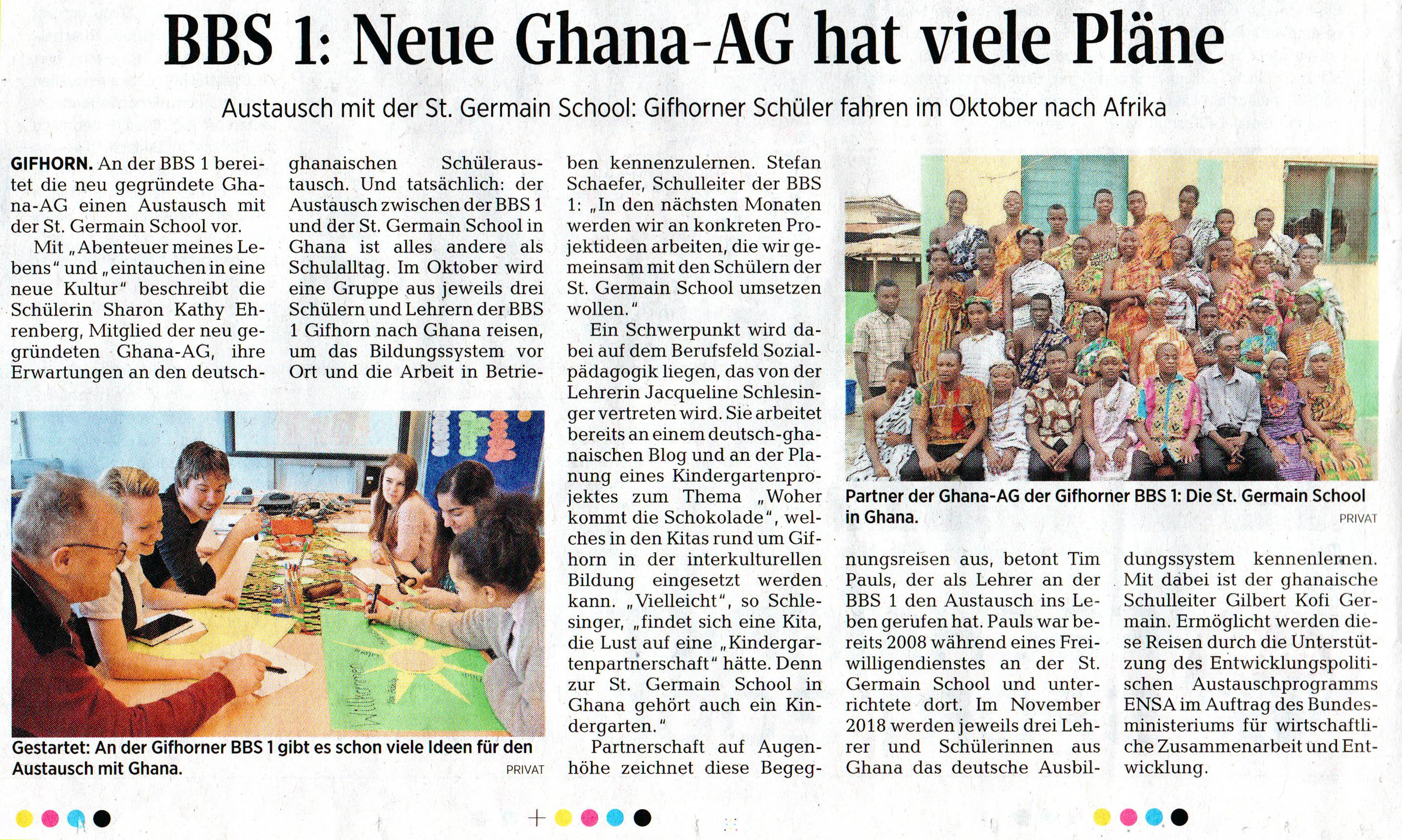 (Source: Aller-Zeitung, 13.04.2018)
English Translation:
BBS1: Newly established Ghana team has ambitious plans
Exchange with St. Germain School: Pupils from Gifhorn head to Africa in October
"Adventure of my life" and "immersion in a new culture" – with these words Sharon Kathy Ehrenberg, a member of the newly founded Ghana team, describes her expectations towards the exchange between Ghanaian and German students. And indeed: the exchange between BBS 1 Gifhorn and the St. Germain School in Ghana is anything but everyday school life.
In October 2018, a group of three students and three teachers from BBS 1 Gifhorn will travel to Ghana to get to know the local educational system and working life. Stefan Schaefer, headmaster of BBS 1 since February 2018, emphasizes that this is not to be mistaken as a holiday trip: "In the coming months we will work on concrete project ideas that we want to implement together with the students of St. Germain School."
One focus will be on the vocational field of social pedagogy, which will be represented by the teacher Jacqueline Schlesinger. Mrs. Schlesinger is already working on a German-Ghanaian blog as well as on the planning of a kindergarten project. This project deals with the topic "Where does chocolate come from", and may be used in day care centers around Gifhorn in intercultural education. "Perhaps," says Ms. Schlesinger, "there is a day care center that would like to have a "kindergarten partnership" since St. Germain School in Ghana also has a kindergarten."
A partnership on an equal footing characterizes these encounters, emphasizes Tim Pauls, who initiated the exchange as a teacher at BBS 1. Tim Pauls taught already as a volunteer at St. Germain School in 2008.  In November 2018, three teachers and students from Ghana will get to know the German vocational training system. Among them the Ghanaian headmaster Gilbert Kofi Germain will be present. These meetings are made possible with the support of the development policy school exchange programme ENSA, on behalf of the Federal Ministry for Economic Cooperation and Development.
(Source: Aller-Zeitung, April 13, 2018)